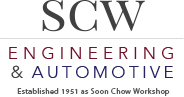 SCW, being the largest player in its industry is a full fledge commercial automotive service provider in Singapore.
Progressively, SCW, previously known and established as Soon Chow Workshop has for over 80years provided exclusive and premium automotive services to discerning clients. Our network of services caters to various governmental, healthcare, private and corporate entities.
The caliber of our work is recognized and acknowledged across the commercial automotive industry locally and internationally. Our governmental and private esteemed clients trust us to solve their engineering problems and to advance and fulfill their interest. We remain at the forefront of our industry by harnessing invaluable talent, skills and experience. We are driven by our belief that sustainable practices and meaningful community engagement will benefit and help build a stronger community.
We strive to be a Globally Recognized and Sustainable Business on Engineering Possibilities. We commit ourselves to our clients, our people and our community in which we work and live. We endeavor to Redefine Quality Engineering Solutions and Service through Innovation and Commitment and strive to serve the international community with unsurpassed dedication in every market we embark on.