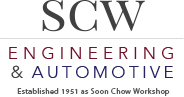 Disclaimer
SCW Engineering & Automotive's website and its contents are intended for information purposes only.
Nothing in the Website is to be treated as professional advice for any matter whatsoever.
Nothing in this Website shall constitute or create an organization-client relationship between the reader and SCW Engineering & Automotive (which term shall include any employee, servant or agent thereof). Readers should seek formal legal advice, if such is required.
No client or reader should act or refrain from acting on the basis of any information contained in the Website.
SCW Engineering & Automotive does not accept any responsibility whatsoever for any harm or loss arising from accessing or relying on information contained in this Website.
SCW Engineering & Automotive expressly disclaims, to the fullest extent permitted by applicable law, all liability in any form whatsoever with respect to acts or omissions made by clients or readers arising from the use of the Website.
Every effort has been made to ensure the accuracy of the content on the Website. However, SCW Engineering & Automotive cannot warrant the accuracy of any information found in this website or any other websites linked to our website or reproduced with permission from other parties. Where content is reproduced from elsewhere, copyright remains with their respective owners.
Copyright and Reproduction Notice
Copyright © 2022, SCW Engineering & Automotive. All rights reserved.
 The copyright in the Website and all material on the Website are owned by SCW Engineering & Automotive and our licensors. The contents may not be reproduced or altered without prior written permission from SCW Engineering & Automotive.